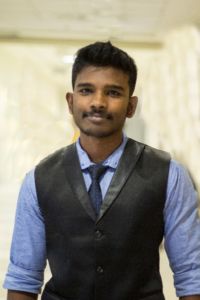 Aldrich Raja started his career as a Solar Engineer for Empower Energies, a solar development company where he conducted preliminary RFP design analysis for nearly 100 MW of rooftop, canopy, and ground-mount projects. He supported M&A projects by conducting technical production analysis on 20 to 100 MW portfolios. Aldrich was also responsible for performance monitoring and reporting of operating assets. His secondary responsibilities included supporting new product design evaluation and vendor identification for the procurement team.
Aldrich joined Sustainable Capital Finance as a Solar Project Analyst to support the team with technical and financial analysis. He believes working at SCF as a Solar Project Analyst provides a great opportunity to learn and contribute to the growth of SCF and the solar C&I market.
Aldrich holds a Master's in Energy Systems Engineering from the University of Maryland, College Park and a Bachelor's in Mechanical Engineering from Anna University, Chennai, India. His academic project experience includes renewable energy topics such as off-shore wind, solar PV, oxy-hydrogen generators, bio-fuel, and micro-turbines.
He has a positive attitude and is excited to learn new things.
Aldrich grew up in a coastal city, so he loves the beach. In his free time, he enjoys stock trading, working out or playing soccer in the evenings after work. He also enjoys playing video games with friends.