What is A Solar Power purchase agreement (Solar PPA)?
A solar PPA, or power purchase agreement, is typically an off-balance sheet financial arrangement through which an energy consumer (commonly referred to as an off-taker) allows a third-party developer to develop, construct, operate and maintain a photovoltaic (PV) system on its property, at no upfront cost. The off-taker then agrees to purchase electricity from the system's owner, over a predetermined period. The off-taker will typically a lower rate than the existing utility rate while benefitting from a more sustainable source of power and the ability to meet sustainability initiatives.
PV systems are typically roof-mounted and often supplemented by either ground mount or parking structure systems depending on the energy consumers' energy needs.
Solar PPA agreements typically offer 15-30 year terms, while the developer will remain responsible for the operation & maintenance of the PV system throughout this term. Customers have the option to either ask that the system be removed, purchase the solar energy system from the developer for Fair Market Value, or enter into a new solar power purchase agreement at the conclusion of the original term.
A solar PPA allows energy consumers to bypass restrictive upfront costs, preserving capital for the organization. While a PPA will almost always be cash flow positive on day one for the energy consumer, a new offering by SCF provides the option for off-takers to pay zero solar electricity costs for the entire first year of operation.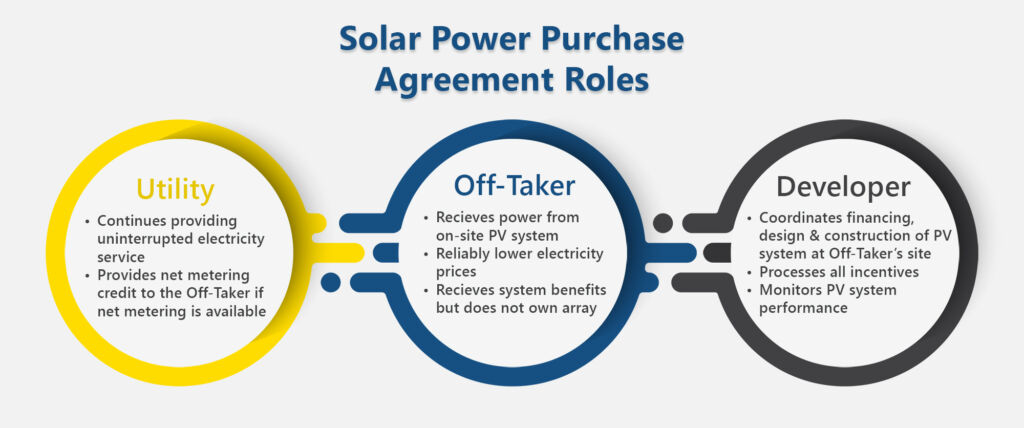 Why do commercial Businesses & Non-Profits choose Solar PPAs?
With a solar PPA, an energy consumer pays for the electricity generated by the solar array, through a service agreement, for a fixed period of time. Power Purchase Agreements are not a financing mechanism, like traditional loans or leases from lenders.
Customers who utilize a solar PPA typically begin saving money from day one, as their monthly electric payments will be reduced with a rate below the current utility rate. These payments will either remain flat or escalate at a fixed rate (normally 1-2%) over the course of the solar PPA term. With energy prices rising at high rates, off-takers will typically see a rapid increase in savings throughout the course of their PPA agreement.
Another key factor for businesses, non-profits, schools, religious institutions, and municipalities and governments to consider is that a PPA typically does not affect an off-takers balance sheet or borrowing capacity the same way that a solar lease or loan would. This means that a solar PPA is often the easiest and quickest way to move toward sustainability commitments or energy cost-saving measures due to the lack of legal or financial obstacles.
SCF utilizes a short-form Commercial Power Purchase Agreement for all of its projects, which is a standard Solar PPA. This reduces project transaction costs, which permits SCF to offer better service agreement terms to energy consumers.
Why Choose SCF for Solar PPAs?
SCF's approach to solar PPAs addresses two pain points for most developers & contractors: small projects, and unrated off-takers. SCF hasn't stopped there, however, as the SCF Suite allows project partners a means to expedite solar PPA projects with a level of certainty & predictability. The SCF Suite offers the ability to price and underwrite projects in minutes instead of days, allowing quick responses to urgent leads – leading to an ever-increasing deal flow.
Additionally, SCF's team delivers an efficient & reliable solution through multi-skilled team members, spanning multiple industries. Its award-winning employees have worked in industries including utilities, banking, tech, engineering, real estate, and solar.
SCF offers a turnkey Solar PPA financing/takeout structure for commercial and industrial (C&I) PV & energy storage projects. This allows its EPC & development partners to complete portions of projects they are experts in, while SCF executes the rest.
Recently, SCF teamed up with NextEra Energy Resources, the industry leader in Distributed Generation, to implement 200 MW of C&I solar projects, solidifying itself as the go-to solar PPA & takeout financier for C&I solar + storage.
Recent Project: John Muir Health
John Muir Health installed a photovoltaic solar system on the roof of the Walnut Creek Medical Center's parking garage. The system will produce approximately 580,000 kilowatt (kWh) hours of power annually and will save John Muir Health approximately $1.4 million in energy costs over the life of the system.
The installation will also help realize goals in greenhouse gas reduction set by the City of Walnut Creek and the State of California.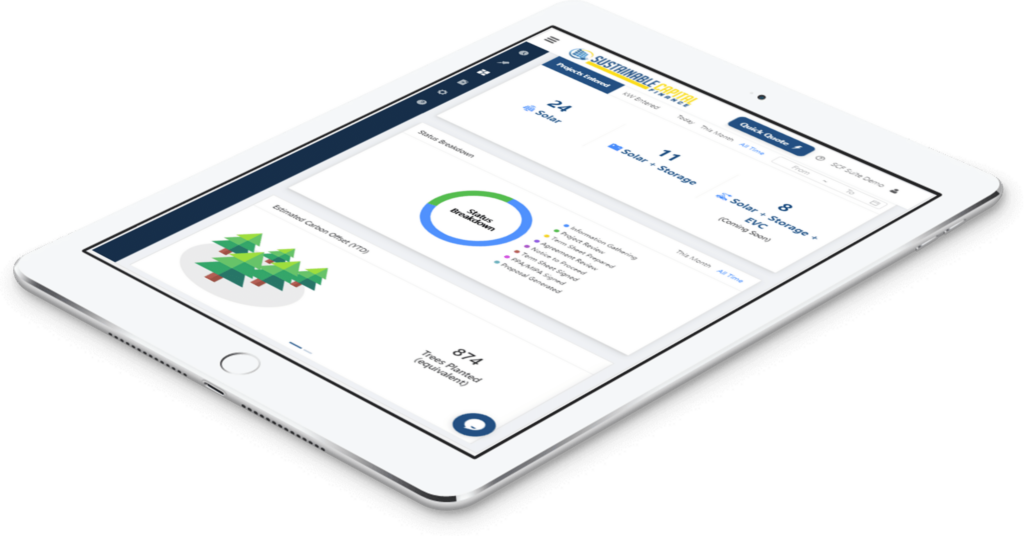 With just 8 project variables, receive indicative pricing in real-time.
Solve for PPA Rate
Solve for Build Cost
Solve for Lease Rates
Try several iterations
Identify economic viability instantly
As project parameters are input, documents & agreements can be auto populated, allowing for immediate download & use.
Sales docs
Term Sheets
PPAs
EPCAs
Diligence Checklist
A project checklist and existing file name architecture allow for an easy to use data room and an easy to manage project.