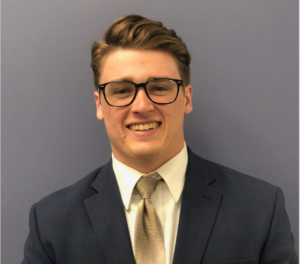 Matt joined the SCF Team in early 2020 working as a remote Intern before transitioning into a full-time role as a Finance Associate in June of 2020. He will start in a cross-functional role supplementing business processes in all departments with an eventual focus in carving out a role within the Originations & Acquisitions team.
Matt is a recent graduate from Millikin University in Decatur, IL, where he acquired a B.S. in Finance and spent time working for a financial planner, two insurance brokerages, and as a development intern for a child advocacy non-profit. He also remained actively involved at Millikin, where he was a 4-year starting linebacker for the football team and provided guidance on several committees for business students and student athletes. His experiences have prepared him to be an asset to advancing SCF's business operations and joining the fight for clean energy.
Matt currently resides in Saint Louis, MO. In his free time, you can find him outdoors playing a round of disc golf, hiking, or enjoying the fresh air. When he is looking for air conditioning (or some warmth in the Midwest winter), you'll either find Matt watching his favorite Chicago Cubs, writing, or looking for the next film to mention too many obscure quotes from.