2018 was a great year for both the solar power industry and Sustainable Capital Finance. SCF achieved a record number of projects priced with the SCF Suite™, forged several exciting new partnerships (to be announced soon) and helped dozens of businesses, municipalities and non-profits save millions on electricity costs with the variety of solar financing options currently offered.
We wanted to say thank you to all of our developer and EPC partners, that have been using the SCF Suite™ to expedite pricing & transactions, and, highlight a few of the more unique projects that SCF completed this year.
Dream City Church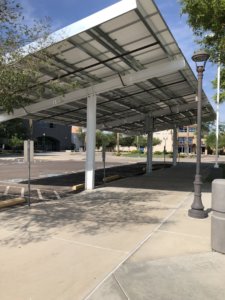 Dream City Church in Glendale, Arizona is now home to the fourth and final solar installation in Dream City's renewable energy portfolio. The project is unique in that it utilizes all spaces on the campus to integrate solar parking canopies, roof mounted arrays, as well as a steel superstructure that can provide shaded seating for events. The robust installation sports 2956 S-Energy photovoltaic modules to the tune of 945 kW of available solar power.
In aggregate, their 3 campuses have a total installed capacity of 2.27 MW. This saves 8 million pounds of carbon dioxide annually compared to coal fired power – all while saving the Church money on their utility bills.
Sunnyside Unified School District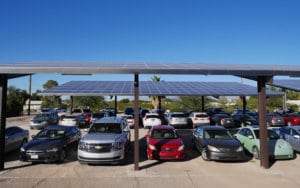 Sunnyside Unified School District is going green! The carport solar arrays at Los Ranchitos Elementary School, the adjacent Administration Center, BL Lauffer, Craycroft, and Drexel are ready to provide electricity to the district's facilities with another ten nearing completion in Q1. The solar systems will offset nearly all electricity usage for each site, and are two of the first projects to reach completion, in the district-wide initiative.
The photovoltaic solar systems across the District will enhance the lives of 16,000 students, provide covered parking for 2,000 faculty and staff, and save over 30% on energy spend, with no upfront cost.
John Muir Health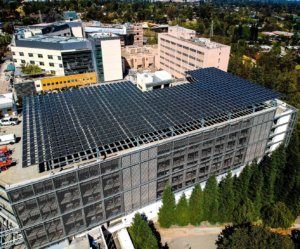 John Muir Health installed a photovoltaic solar system on the roof of the Walnut Creek Medical Center's parking garage. The system will produce approximately 580,000 kilowatt hours (kWh) of energy annually and will save John Muir Health approximately $1.4 million in energy costs over the life of the system.
The installation will also help realize goals in greenhouse gas reduction set by the City of Walnut Creek and the State of California.
SCF in 2019
We are planning for an even bigger 2019, with additions to the SCF Suite™, several exciting new partnerships, and much more. If you haven't gotten in touch with us yet about joining the SCF Suite™, or if you haven't used it recently, please don't hesitate to contact Dan Holloway @ dholloway@scf.com or fill out the contact form to get in touch with us.
The team here at SCF would love to wish you & yours a happy holidays and a prosperous new year!