Power grids are becoming ever more dynamic and interconnected, with exciting new opportunities continuing to arise as solar and battery tech improve in their abilities to "talk" with one another. As electric vehicle fleets increase in number, charging infrastructure will need to keep up in order to meet demand from both commercial and passenger vehicles, creating funding opportunities for third-party financiers.
Electric Vehicle Adoption
While electric vehicles still occupy just a small percentage of the U.S. auto market, momentum is beginning to build. According to Techcrunch, new registrations doubled from 2017 to 2018, hitting 208,000 new registrations last year in the U.S. alone. While this growth has been largely concentrated in California, many other states have joined the new Zero Emission Vehicle program such as Massachusetts, New York, Maryland, New Jersey, Rhode Island, Oregon, Maine, Vermont, and Connecticut.
Adoption is expected to continue increasing over the next few years, as more EV options enter the market and better infrastructure for charging is put in place. Over 350,000 new EVs are expected to be sold in the U.S. in 2020, which would put EVs at 2 percent of the U.S. automotive fleet.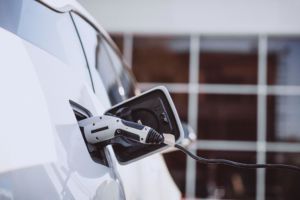 Government Regulations and Policies
While directly targeted initiatives such as the Zero Emission Vehicle program, have certainly been critical in continuing the momentum of EV adoption, indirect policies also have a significant effect. Many European countries have increased taxes on fossil fuels; in Norway, nearly half of all new vehicles purchased in 2018 were electric. As states like California continue adopting electric vehicle friendly policy, the number of vehicle owners looking to switch over from internal combustion engines will only continue to increase.
While public attention is often directed solely towards passenger vehicles, the potential for environmental impact is just as high with commercial vehicles and shipping. While some companies such as Tesla and GM have been exploring this market, the opportunity for investment, should adoption continue at its current rate, will continue to incentivize investment in infrastructure. Other economies such as China and Europe are already moving quickly in this direction and will likely have converted a large percentage of their shipping fleets to electric in the very near future.
If the U.S. wants to have any chance of competing in either the commercial or passenger electric vehicle space, government policy will need to continue providing both incentives, as well as fossil fuel penalties.
SCF and Solar Charging
Charging infrastructure will need to match vehicle sales if consumers and businesses are expected to continue expanding their electric fleets. While much of the country is lagging in terms of charging stations per EV, improved solar electricity rates in states like California could prove extremely cost-effective for businesses or communities looking to implement charging stations.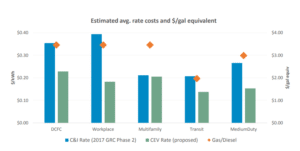 As displayed in the above graph from a recent California Transit Webinar, estimated rates for many users could enable significant savings. Electric vehicle charging stations can also be paired with existing solar arrays, and/or storage installations, in order to maximize savings and increase the obvious benefit of these arrays for employees or residents.
SCF is actively pursuing various types of solar EV charging projects including Fleet Management, Office, Retail and Multi-family Residential.
Please don't hesitate to reach out to us with any questions regarding solar EV charging options.