With over 15,000 attendees year after year, Intersolar is one of North America's largest solar exhibitions for its industry and partners. SCF had the opportunity to walk the floor this year and here's what we learned:
1) Intersolar has grown with the solar market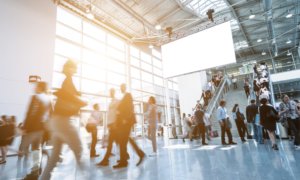 Where once small shop entrepreneurs gathered in line to inspect racking attachments to increase their crews' installation speeds, business professionals and executives speculate on the future of the industry and the challenges of a mature market. The vendors are largely the same, but their old products have been refined and perfected. This is a great accomplishment and shows monumental progress for an industry that has tripled in size since 2010.
Solar industry progress is outstanding; albeit it comes with issues that are ever present when a new industry flourishes. The problems are new and different. The focus is now on ways to incorporate solar into our outdated grid, which is why there is now an entire floor dedicated to energy storage. At stands brimming with developers seeking to get ahead of the curve, storage companies hawked their products to customers who have tried and failed to effectively implement a cost-effective solution to demand charges and utility push back.
Everyone knows storage is the big question; and the teams that master it first will be in a league of their own.
2) Software is Taking over the Origination Game
One thing that has become evident over recent years of attending the Intersolar Show is that a new breed of software providers are providing new value added services that are dramatically reducing the workload to the EPC/Developer marketplace. The landscape of origination is changing rapidly, and it appears that software is at the forefront of this new paradigm shift.
Companies like Aurora have reduced the work it takes to design large and complex commercial solar systems to simply entering an address and performing a handful of mouse clicks. Other companies are using large scale public (and private) databases to estimate building energy usage and electricity pricing to dramatically reduce the amount of time it takes to provide customers with detailed proposals. Still other companies are using software to target the best properties for land leases for Greenfield development. All of these new platforms are combining to drive down the cost of customer acquisition which in turn will drive down overall installation costs. With that being said, it's an exciting time to be in the solar market.
3) Meeting Clients and Partners Face to Face is Always the Best Part
Participating in Trade Shows can impart numerous benefits. While they can be costly to attend, a lot of value to be derived if proper planning and preparation is undertaken. Most people attend shows in hopes of learning more about their industry through seminars, or walking the show to experience new products, services or industry trends. In SCF's experience, the most valuable aspect of visiting industry trade shows is the in-person meetings that take place at these events.
Getting to meet with people in-person, and learn about their companies, projects, and personal lives is invaluable in creating rapport, and ultimately trust. In an industry known for terms like the "Solar Coaster", and the "Wild West" it is vital to form long term relationships with those you partner with. There are numerous attendees at these shows that find the face to face meetings so valuable, that they never actually set foot on the show floor, and simply purchase a show pass so that they can set up meetings with their clients and prospective vendors. At shows like Solar Power International, you will rarely have an opportunity to meet with as many partners in one place.
There is a lot that can be learned at any industry trade show, but the in-person meetings have the longest-lasting impact.