#GivingTuesday is a global day of giving that is celebrated on the Tuesday after Thanksgiving, Black Friday, and Cyber Monday. It's a chance to give back to your community during the holiday season.
SCF believes that it's important to give back to local communities and help others in need. The following nonprofits use solar energy as a way to empower the people they serve, whether through policy reform, lowering energy bills, or safely delivering babies. Each of these nonprofits is making a difference in communities through solar power, and for that we are grateful!
1. RE-volv: RE-volv raises money through crowdfunding campaigns, to build solar projects for community-serving nonprofits. As the organizations repay RE-volv for the loan, it pays you back in the form of a portfolio credit that can then be used to invest in more solar projects. It's a "pay-it-forward model for solar energy." To date, the organization has installed 10 solar projects and has been backed by nearly 1,000 people. Help bring solar to an underserved community today! Check out projects that need backers
2. GRID Alternatives: GRID works nationwide to provide low income home owners and nonprofits with free solar installations. They have installed over 36 MW of solar nationwide and continue to be an advocate for bringing solar to underserved communities. Not only does GRID install solar, they also provide invaluable workforce development through installation training programs, SolarCorps Fellowships, and its "Troops to Solar" program. GRID has 14 locations nationally and internationally and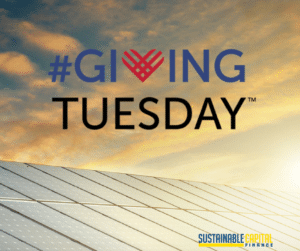 is always accepting volunteers! It's an invaluable experience: SCF knows firsthand. Donate here!
3. Vote Solar: Vote Solar has a mission of bringing solar energy to the mainstream, by advocating for solar energy policy reform at the state level. It has been instrumental in the development of numerous policies regarding net metering that can be used across the industry to fairly value solar energy compensation. Its advocacy has also spurred interest from local governments on the topics of community solar adoption, modern energy grid development, and low-income solar access. To help expand the adoption of solar energy, and support Vote Solar, donate here.
4. We Care Solar: We Care Solar was founded in 2009 by Dr. Laurel Scatchel. During a visit to Nigeria, she witnessed a high maternal mortality rate due to lack of proper lighting in medical facilities. She worked with her husband, a solar energy educator, to create a prototype for what would soon become the Solar Suitcase. Every portable Solar Suitcase provides health workers with a reliable source of power and highly efficient lighting.  As of December 2016, 2,260 health centers were equipped with solar lighting and over 1 million newborns were delivered in Solar Suitcase facilities. As an added bonus, all donations received on #GivingTuesday will be dollar-for-dollar matched. Donate here.
5.Everybody Solar: Everybody Solar works to protect the environment through solar energy projects. It provides solar power to local charities to help them reduce their electricity costs. These solar energy savings can equate to thousands of dollars that can be put towards the communities they serve instead of pricey electric bills. It currently has four live projects that are in need of funding, including the Lakota Nation Youth Center in South Dakota. The Center provides shelter, food, and support services for youth in need in their community. With your help, these solar projects can become a reality. Donate here!
6. The Solar Foundation: The mission of the Solar Foundation is to accelerate adoption of the world's most abundant energy source, solar energy! The Solar Foundation continues to deliver high quality studies related to jobs and diversity in the solar sector. One of its' most notable programs, Solar Ready Vets, provides training, hands on experience, and job placement assistance for transitioning military personnel. Donate here!
About Sustainable Capital Finance:  Sustainable Capital Finance (SCF) is a third party financier & owner/operator of commercial & industrial (C&I) solar assets and is comprised of experts that specialize in structured finance and solar development. SCF has a vast network of EPCs and Developers across the US that submit project development opportunities through SCF's cloud-based platform, the "SCF Suite". This allows SCF to acquire and develop early to mid-stage C&I solar projects, while aggregating them into large portfolios.
SCF has standardized the diligence and transaction process, thus creating cost-efficiencies and risk mitigation, in order to solidify the C&I marketplace as an investment-worthy asset class. For more information, visit https://scf.com. Connect with us on Twitter at @SCF_News and follow us on Linkedin and Facebook!