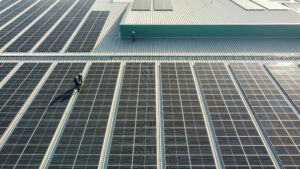 With soaring shipping rates and greatly increased steel, fuel, copper, and labor costs, many solar customers have put soft holds in place on upcoming projects. Although commercial solar is still expected to grow exponentially over the next decade, projections may be altered due to these COVID-related setbacks. These issues may also affect which states serve as prime investment targets, as statewide policies, and incentives become vital for local renewable energy procurement. In this article, we will review the current top 5 states for C&I solar development potential and trends.
It may surprise some to see California fail to land the top spot (or even make the top 5 for that matter), and while the golden state still dwarfs all others in terms of deployed solar, it has slipped behind these five states when comparing ease of new C&I solar deployment.
Illinois

Illinois recently topped the updated 2020 Corporate Clean Energy Procurement Index, published by the Retail Industry Leaders Association (RILA). This study ranks the ease with which major companies can develop state-level renewable energy within the 50 U.S. states.
Annual solar energy capacity in Illinois jumped from just 12.9 megawatts in 2017 to over 300 megawatts in 2020. Factors that played a large part in this impressive growth include a strong renewable portfolio standard requiring 25% of the state's energy to originate from renewable sources by 2025.
It will remain to be seen whether Illinois can stay ahead of other states, however, due to the Illinois Power Agency (IPA) announcing the closure of all state renewable energy incentives in December of 2020. These programs were the main driver behind Illinois solar boom, and the lack of funding has caused new construction to slow considerably in 2021 compared to previous years. There is still a chance that legislators could solve this bottleneck through new legislature soon, something which would surely restart the state's solar boom given the incredible demand available.
New Mexico

An ideal location for solar energy, New Mexico has plenty of sun year-round, ranked second in the country for solar-generated power potential. Reaching second on RILA's Corporate Clean Energy Procurement Index as well, New Mexico has seen prolific, if somewhat sporadic, growth over the last decade.
New Mexico installed nearly 300 MW of capacity in 2020, a large majority from utility-scale. The state's share of commercial solar, compared to residential has seen slow, but steady growth, since 2015, as prices for solar have decreased by approximately 43% over the last 5 years. The state is projected to install over 2000 MW of solar capacity within the next 5 years.
Massachusetts

A leader in solar incentive policy and one of the most prolific states for commercial solar, Massachusetts stands apart from other leaders such as California in that commercial solar has made up most new installations between 2012 and 2018. After a record year in 2017, Massachusetts saw a distinct drop in generation as well as solar-related jobs, despite still ranking second in the nation. This drop was largely caused by a combination of the solar tariffs placed on imported solar modules and cells, as well as fears over the expected ITC cliff at the time which caused most developers to plan for project completion in 2017. Infrastructure limitations have been another cause for slowed C&I growth in Massachusetts, with upgrades needed in most service territories before large commercial scale customers could support solar installations.
Massachusetts solar future is largely shaped by its net metering and goal-oriented renewable portfolio standards, as well as its robust SREC market. While not expected to grow as quickly as other states over the next 5 years, Massachusetts is likely to remain a prime candidate for commercial solar installations.
Nevada

While not historically a notable state for commercial solar installations, Nevada holds a huge amount of potential due to its generation potential and supportive legislature. A majority of Nevada's solar installation since 2012 has been Utility PV, peaking in 2016 with nearly 1000 MW of capacity installed that year. While deployment slowed after the Public Utility Commission altered the net metering policy provided to solar customers in the state, Nevada legislature voted to renew the crucial policy in 2017.
Although the state's solar industry has been slowed by the impacts of COVID-19, Nevada continues to invest heavily in storage and electric vehicles. While it may take some time for Nevada's commercial solar industry to begin picking up steam, it remains a prime location for businesses looking to invest in solar, especially when paired with storage and electric vehicle charging.
New Jersey

While this state has failed to see the kind of exponential growth that others have, New Jersey has long been an early leader in solar, especially in the C&I sector. In place since 2019, New Jersey's Transition Incentive Program for solar projects in the state currently offers $152 per megawatt-hour to commercial projects.
It will remain to be seen whether New Jersey's commercial solar growth will continue at the same rate over the next several years, as the New Jersey Board of Public Utilities (BPU) recently issued proposal outlines recommending a long-term replacement program that would slash commercial project incentives considerably.