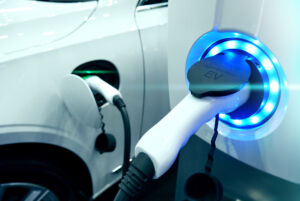 Electric vehicles adoption is growing at an exponential pace, with the International Energy Agency(IEA) estimating 250 million EVs across the globe by 2030, with an expected 44 million sales every year. In order to reach this point, significant improvements will be required of both EV charging infrastructure and technology. In this piece, we will take a look at several technologies that could play a key role in this transition. 
Smart Kiosks
With such a large number of electric vehicles expected on the roads in the next ten years, an estimated 1.5 million charging stations will be required to support consumer needs. This presents an exciting and profitable opportunity for restaurant operators to fill a vital niche in the EV charging network, while driving business to their locations through the use of fast chargers with built in food ordering kiosk technology. 
"For EVs to sustain the growth we'll see, charging must blend seamlessly with how consumers live their lives," says CEO Tosh Dutt of ChargeNet Stations. "Americans in every region and demographic eat fast food—it's part of the culture—and just like fast food, EV charging must be quick, convenient, and deliver value." 
With systems such as ChargeNet's, drivers can simply pull into dedicated parking spaces where they can quickly start their vehicle charging while they order food either on a digital screen built into the kiosk or while they dine inside. 
Many of these systems also include a solar array providing shade and protection from the elements to these parking spaces, while lowering electricity costs for the restaurant through any excess power generated. 
Ultra Fast Charging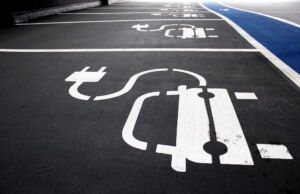 Range anxiety is a critical barrier limiting EV adoption, as many potential EV purchasers worry about their ability to take longer trips through areas without proper charging infrastructure. 
The Biden Administration recently announced new steps they've taken towards meeting President Biden's goal of building a national network of 500,000 electric vehicle chargers across the nation's highways. While this will cover a lot of ground in lowering the distance between charging stations, charging speed is still a big issue that more stations will need to improve before many drivers will consider EVs a full replacement for their gas vehicles. 
There has been considerable advancement in this field recently, with new ultrafast chargers delivering 32 km (20 miles) of driving range in approximately one minute, a significant improvement over the current generation of chargers. While these improvements are impressive, the industry believes that  charging times will continue to drop as new liquid cooled charge ports increase the rate at which electricity can be dispensed. Over the next 5-10 years, it is likely that charging rates will double, or  even triple as the need to charge larger vehicles, such as semis and last-mile delivery vans, become more prevalent in the market.  
Improved Battery Tech
Improvements in battery technology could solve a number of issues within the EV space, battery cost and range anxiety being two of the most relevant. While lithium-ion batteries have remained the standard within the industry for the last twenty years of electric vehicle development, new materials are currently being tested to replace traditional batteries, such as graphene-based technologies, which can be charged in approximately 15 seconds. While these new technologies will likely support, rather than replace, typical EV batteries, some car manufacturers are developing sulfide-based, solid-state batteries that could last as long as 30 years. Several companies are also looking to eliminate cobalt, a pricey component in today's batteries that would drastically reduce the price if replaced.
The electric vehicle industry invites fresh ideas and new technologies, and Sustainable Capital Finance is excited to be at the forefront of many of these exciting developments. To learn more about SCF's EV charging offerings, and how they can be paired with both solar and storage to increase potential savings, feel free to reach out to our O&A team here.