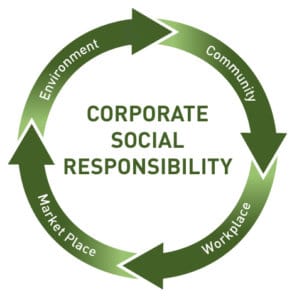 Corporate Social Responsibility ("CSR") has been a hot topic for the past few years, with numerous Fortune 500 companies announcing aggressive goals relating to their clean energy usage. To many of these companies, transitioning their energy usage into renewable energy sources plays an integral part in their sustainability goals. Offsetting energy costs through increased use of renewables is not only cost-effective, but such practices allow  for CSR success which has a profound impact on consumers.
Companies have acknowledged that to stay competitive in the market and to increase consumer trust, they must look to what consumers value in a brand. According to a 2015 study conducted by Cone Communication/Ebiquity, "91% of global consumers expect companies to do more than make a profit," such as "operate responsibly to address social and environmental issues." The study notes that companies that support social and environmental issues maintain large numbers of consumers that perceive said companies in a positive light (93%), self-identify as loyal to the company (88%), and generally trust the company and its purposes (90%). These are powerful means to grow and solidify a brand, and generate goodwill among consumers.
While the rapid expansion into renewables as a means of CSR can be easily explained by the positive tangible benefits it brings to local communities (like clean air and water), it also doesn't hurt that often times wind and solar energy represents a cost savings to the business by avoiding more expensive utility-fed power. This is without accounting for the environmental costs savings, such as carbon abatement and water cleanup, which generally occur with greater renewable use. With companies such as Amazon, MGM, Apple, and Salesforce all announcing aggressive sustainability and renewable energy goals, we're seeing a growing shift away from private sector fossil fuel usage as CSR goals are increasingly prioritized.
Last month, Salesforce made headlines for achieving its net-zero carbon emissions' goal decades before the goal date of 2050. For years, Salesforce has worked on increasing the energy efficiency of its infrastructure, servers, and buildings to help it obtain the net-zero emissions title. The company was finally able to complete this task by purchasing power through various wind farms in Texas and West Virginia. Salesforce is now striving for a 100% renewable energy goal globally. While they're headed in the right direction, this will surely prove a greater challenge (and reward) for the cloud-based software company.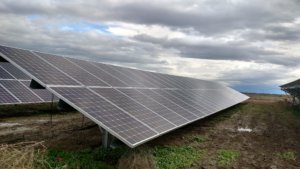 Asics, the popular footwear company, announced this week they were expanding upon their sustainability goals by installing a 1MW solar system at its primary distribution center in Mississippi. This system will be the largest privately-owned solar array in the state, and will power 20% of the energy usage at the location.
MGM Resorts International now boasts the largest rooftop array in the United States, with 8.3 MW spanning over 23 acres atop its Mandalay Bay location. At full production, the system will account for 25% of the hotels total energy usage. Not only did the resort install the largest rooftop system, it also paid 87 million dollars to stop purchasing electricity from NV Power, a cost they believe will be recouped within 7 years.
While many companies have reaped the economic benefits of "going green," a rare few have had the misfortune of their sustainability efforts being scapegoated by critics for plummeting stock prices.  NRG is a well-known example of this. David Crane, the former CEO, had high hopes of transforming the company, only to be fired before his vision could be fully implemented. The company claims it will continue to invest in renewable energy, but will stay away from emerging technologies.  However, for each cautionary tale, there are many more successful ones of transitions into renewable energies.
In the end, these companies are achieving their sustainability goals in large part due to solar power. This can largely be attributed to solar being one of the cheapest and easiest forms of renewable energy available. A 200kW solar array can offset carbon emissions by roughly 250 tons per year:  the equivalent of taking 47 passenger vehicles off the road for one year, or not burning 120 tons of coal. While these figures may seem like a drop in a very large bucket, the reality is every positive action taken, whether it be installing solar or increasing energy efficiency, leads us to a more sustainable, energy secure future that does not rely on carbon–emitting fossil fuels to power our companies and economy.